CONTACT LENS EVALUATION & PRESCRIPTION
With advancing technology in contact lenses, most everyone is a candidate for some form of contact lens, and with Advanced Family Vision Care's exclusive 'Buy 'Em Back' policy, there's no risk involved either!.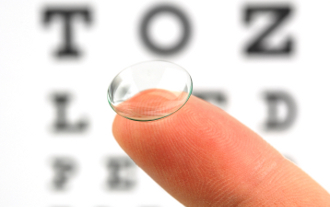 Depending on your prescription, visual requirements, and desires, contact lens options consist of single vision lenses to correct nearsightedness, farsightedness, astigmatism, and presbyopia, or multi-focal lenses to provide distance, intermediate and near vision while maintaining depth perception. Contact lenses offer a solution to those who feel restricted by eyeglasses while also offer an alternative to corrective surgery such as LASIK. Another benefit to contact lenses is that they offer a full, unobstructed view as opposed to eyeglasses.
It is important to remember that contact lenses are prescription medical devices and as such are regulated by the Food and Drug Administration (FDA). Various brands are designed and manufactured differently. The selection of a particular contact lens needs to be based on your prescription, eye health, comfort requirements, lifestyle, age, and physiological factors like tear flow. We'll discuss the different lens types and brands with you and advise you about the lens choices that are best for your eyes. Because everyone's eyes and vision needs are different, contact lenses are available with varying schedules for removal and replacement. We'll teach you how to properly clean and wear your new contact lenses to maximize vision and minimize potential risks.
If you are a first time contact wearer then it is important to schedule an appointment with your eye doctor. During this time you will undergo a comprehensive eye exam by your doctor and she will discuss the options available that will best fit your prescription, your eye structure, and your tear production to determine the best lens for optimal eye health. There are many kinds of contact lenses that can be categorized as following:
The material they are made of (hard, soft and GP lenses)
Length of wear (daily and extended wear)
Frequency of disposal (daily disposable, frequent replacement, and traditional lenses)
Lens design (spherical, bifocal, orthokertology and toric)
Additional features (dry eye contacts, colored lenses, special effects and prosthetic lenses)
Call or stop by Advanced Family Vision Care's office and we will be glad to assist you with any contact-lens related queries.