COMPREHENSIVE EYE EXAMS
Yearly dilated comprehensive eye exams are important to maintaining the health of your eyes, regardless of your age, visual ability, or physical health.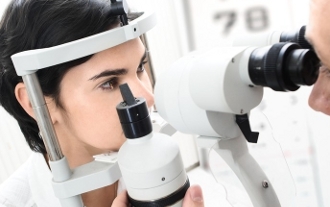 Adults, seniors, and children should have annual eye exams in order to correct any vision issues, update prescriptions for glasses and contact lenses, prevent vision loss, and identify any early warning signs of disease. Some diseases may develop slowly without causing any pain or vision loss. Eye exams can also reveal previously undiagnosed health issues such as high blood pressure and diabetes!
Advanced Family Vision Care provides complete eye care to patients of all ages. Dr. May and Dr. Cioffi and our staff are dedicated to providing the highest quality care while meeting the individual needs of each patient. Our eye exams include a series of diagnostic tests performed to evaluate your vision and ocular health, based on these key areas:
Visual Acuity
Refraction (Eyeglass Prescriptions, Contact Lens Prescriptions)
Eye Alignment
Depth Perception
Peripheral Vision
Color Vision
Eye pressure and Glaucoma Risk Assessment
Blood Pressure
Dry Eye Assessment
Retinal Imaging for Ocular and Systemic Disease Assessment
Few things affect the quality of your life more than your eyes. Please don't put them at risk! Start off right by seeing an optometrist who provides full-service care in assessing your medical needs, your lifestyle, and providing the highest quality lenses available.