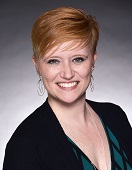 Michelle May, OD, FCOVD
About
Dr. Michelle May is a board certified and residency trained Optometrist. She truly cares for her patients and will take the time to thoroughly examine the health of your eyes as well as determine your perfect prescription(s) needs. To provide the best eye care to her patients, Dr. May stays current in her education. In addition to a Doctor of Optometry degree and required national board certifications, she has completed a residency in Pediatrics, Vision Therapy and Vision Rehabilitation. Dr. May has also completed additional board certification in Vision Development and Rehabilitation. Dr. May really enjoys taking care of her patients' eye care needs - healthy vision is her passion!
Specialties
Pediatrics / Children's Vision
Vision Therapy
Vision Rehabilitation

Degrees & Fellowships
Doctor of Optometry (OD), Southern College of Optometry (Magna Cum Laude) - Memphis, TN
Fellow of the College of Optometrists in Vision Development (FCOVD)
Pediatrics, Vision Therapy & Rehabilitation Optometric Residency, Fair Lawn, NJ under the direction of Dr. Leonard J. Press, a renowned leader in the field.
Bachelor of Science in Biology (Magna Cum Laude) - UMBC, Baltimore, MD
Bachelor of Arts in Psychology (Magna Cum Laude) - UMBC, Baltimore, MD

Honors & Positions
Journal of Behavioral Optometry Author of the Year
Southern College of Optometry Outstanding Clinician Award
SECO International Southern Council of Optometrists Clinical Excellence Award
Southern College of Optometry Third Year Clinical Skills Award
Founding member of UMBC's chapter of Alpha Sigma Kappa, a sorority for women in technical studies.
Gold Key International Honor Society
Southern College of Optometry Presidential Endowed Scholarship
Beta Sigma Kappa Honor Society

Publications
Vision Loss Secondary to Facial and Orbital Trauma. The Power of Lenses. 2018, Vol. 1
Constant Alternating Exotropia Secondary to Traumatic Brain Injury. Vision Therapy: Success Stories from Around the World. 2015, Vol. 1
Visual-Vestibular Interaction and Treatment of Dizziness: A Case Report. Journal of Behavioral Optometry. 2012, Vol. 23 Issue 3
New Frontiers in Vision Therapy Residency Education: Private Practice. Journal of Behavioral Optometry. 2011, Vol. 22 Issue 4

Professional Memberships
College of Optometrists in Vision Development (COVD)
Neuro-Optometric Rehabilitation Association (NORA)
Brain Injury Association of Maryland (BIAMD)
Maryland Optometric Association (MOA)
American Optometric Association (AOA)

Public Service
VSP Vision Exams Mobile Clinic
Special Olympics Healthy Athletes Vision Screenings
InfantSEE® provider
Lions Club Vision Screenings
Remote Area Medical Clinic
Lifeblood Blood Drive Coordinator
Multiple Mission trips to Central America
LeBonheur Children's Hospital Volunteer

Here at Advanced Family Vision Care we take pride in our wonderful staff – they are the first people you will speak with and the first smiling faces you will see as you enter our office. They will assist you in choosing the perfect eye wear and help make sure you get the correct type(s) of lenses for all of your visual needs.
Brooke
Optometric Assistant and Optical Technician
Brooke joined Advanced Family Vision Care in November of 2014, shortly after we opened our doors. She has over fourteen years of experience in the medical field and a very strong background in customer service. She loves taking care our patients from the beginning of their appointment to the end while also helping them make the perfect eyewear selection!
Aimee, COVT
Optometric Assistant and Certified Optometric Vision Therapist
Aimee joined Advanced Family Vision Care in March 2017 and has been a fantastic member of the team! She received her bachelor's degree in biology from Lafayette and has always had a passion for healthcare. She is a board Certified Optometric Vision Therapist (COVT) from College of Optometris in Vision Development. She loves assisting our vision therapy and rehabilitation patients in reaching their best visual potential and has been doing vision therapy with Dr. May since she joined the practice.
Kendra
Optical Technician and Vision Therapist
Kendra joined Advanced Family Vision Care in the Spring of 2015. Kendra has been an Optometric Technician for nine years and a Vision Therapist for eight years, and she loves working with our therapy patients to help them achieve their visual goals! She recieved her Bachelor's degree at the University of Maryland Baltimore County and is pursuing a career in healthcare.
Kim
Optical Technician and Patient Care Coordinator
Kim joined Advanced Family Vision Care in the Winter of 2018. She has over 3 years of optical experience and is our lead optical assistant. Kim greatly enjoys guiding our patients through their eyewear selection process.