PEDIATRIC EYE EXAMS
Did you know that up to 80% of everything a child learns, understands, and remembers is acquired through the visual system? Vision is extremely important in the learning process; unfortunately, one in four children has an undiagnosed vision problem that affects their ability to learn.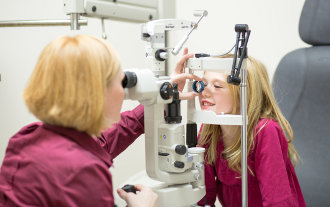 Your child's best eye care therefore begins early. Even if no eye or vision problems are apparent, the American Optometric Association recommends scheduling eye examinations for your child at ages 1, 3 and 5. Dr. Michelle May volunteers in a public health program called InfantSEE®. Under this program, she provides a comprehensive infant eye assessment between 6 and 12 months of age as a no-cost public service. 
While vision screenings at school and the pediatrician's office are important, they are not a substitute for comprehensive eye exams by a licensed eye doctor. Thorough eye and visual health examinations are important for ensuring proper development. At Advanced Family Vision Care we are able to use a variety of testing methods for children that do not require verbal feedback, ensuring the accuracy of our evaluation.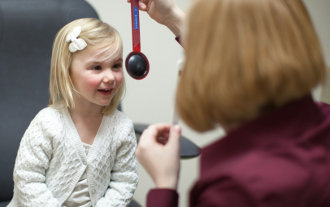 After beginning school, we recommend a vision test prior to the beginning of each school year. Children often do not complain about having blurred vision and vision screenings at school are not sufficient as a basis for diagnosing vision problems. A comprehensive exam may find a visual problem missed during screenings, and your eye doctor can recommend treatment. Early detection and treatment will help reduce the need for more invasive eye care later in life.  Some problems, like amblyopia (or "lazy eye"), can be detected and addressed at a young age before becoming more serious issues.
Some signs that your child might be developing a problem associated with their vision are:
difficulty reading or reading slowly and/or poor reading comprehension;
frequent loss of place, skipping words, and/or skipping lines wen reading;
difficulty reading and copying from a distance, as in seeing a chalkboard;
blurred or double vision while reading or doing schoolwork;
frequent headaches or eyestrain;
excessive blinking or eye rubbing;
reversing letters and numbers in reading – as in "14" for "41";
difficulty catching or getting a ball, tying shoelaces, etc.
Children suffering from uncorrected vision problems may face many barriers in life - socially, academically, and athletically. Make sure your child's vision is developing well.
Child's Comprehensive Vision Examination
A comprehensive eye exam includes testing and evaluation of visual skills (function, performance, etc). In the absence of complete testing, common pediatric vision problems can go undetected, and, in some cases, can be misdiagnosed as a learning disability or behavioral problem.
Many school eye or vision screenings test only one of the visual skills listed below -- that is, Acuity-Distance (clarity of sight in the distance, 20/20 eyesight as measured by the standard Snellen eye chart).
At Advanced Family Vision Care your child's comprehensive eye examination includes testing of the following visual skills, ALL of which are important aspects of normal, healthy human vision.
Acuity - Distance Vision: visual acuity (sharpness, clearness) at 20 feet distance.
Acuity - Near Vision: visual acuity for short distance (specifically, reading distance).
Focusing Skills: the ability of the eyes to maintain clear vision at varying distances.
Eye Tracking and Fixation Skills: the ability of the eyes to look at and accurately follow an object; this includes the ability to move the eyes across a sheet of paper while reading, etc.
Binocular Vision or Fusion: the ability to use both eyes together at the same time.
Stereopis: binocular (two-eyed) depth perception.
Convergence and Eye Teaming Skills: the ability of the eyes to aim, move and work as a coordinated team.
Color Vision: the ability to differentiate colors.
Based on her findings from the comprehensive eye exam Dr. Michelle May might recommend specialized testing which would include:
Reversal Frequency: confusing letters or words (b, d; p, q: saw, was; etc.)
Visual Memory: the ability to store and retrieve visual information.
Visual Form Discrimination: the ability to determine if two shapes, colors, sizes, positions, or distances are the same or different.
Visual Motor Integration: the ability to combine visual input with other sensory input (hand and body movements, balance, hearing, etc.); the ability to transform images from a vertical to a horizontal plane (such as from the blackboard to the desk surface).
Remember: an eye exam that tests distance vision only is NOT an adequate evaluation of a child's visual development. The visual skills listed above contribute significantly to a child's success with reading and school achievement.
Below are some common pediatric visual conditions which are not detected through the 20/20 eye chart test alone:
How can I schedule free eye exam for my infant?
Scheduling a free comprehensive eye assessment for your infant between 6 and 12 months of age is easy. Simply call Advanced Family Vision Care at and ask to schedule an InfantSEE® exam. Dr. Michelle May is excited to offer this no-cost public service to Gambrills, Odenton, Crofton, Millersville, Severn, Severna Park and its surrounding Maryland communities.
Schedule Eye Exam for your Child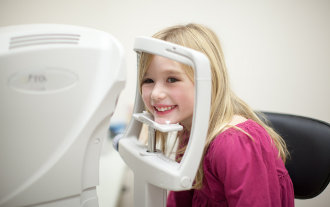 Ensure the health of your child's eyes and contact our office to schedule a pediatric eye examination. We will gladly answer any of your questions and provide you with the best treatment options available to you and your child.