VISION THERAPY
Is your child smart in everything but school? Did you know that 1 in 4 childrenhas a vision problem that affects learning, and that vision problems involving eye movement and focus can often mimic ADD/ADHD-like behaviors?
The way that eyes move, work together and focus can affect a person's ability to read, process, and understand information. Studies have shown that deficiencies in any of these areas can lead to a significant handicap in learning. Vision therapy can help overcome these problems - improving the ability to read and learn.
Vision therapy can help improve visual function in cases where there is
Convergence Excess
visual processing problems
loss of visual function secondary to concussion, stroke, or injury (see VISION REHABILITATION )
poor eye-hand coordination and/or sports performance (see SPORTS VISION )
So what is vision therapy?
Vision therapy is a form of neuro-muscular re-education; it is like physical therapy for the eyes! The American Optometric Association (AOA) defines Vision Therapy as
"a sequence of activities individually prescribed and monitored by the doctor to develop efficient visual skills and processing."
It involves an individualized treatment program designed to correct visual-motor and/or perceptual-cognitive deficiencies and enhance the brain's ability to control:
Eye alignment
Eye tracking and eye teaming
Eye focusing abilities
Eye movement control
Visual processing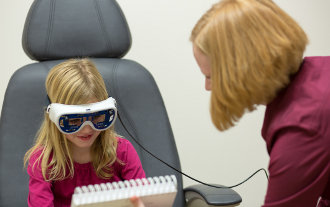 At Advanced Family Vision Care each patient's vision therapy program is based on the results of standardized testing, and it is individualized to address their specific visual deficiencies. The use of lenses, prisms, filters, specialized instruments, and computer programs is an integral part of the vision therapy program.
Vision goes far beyond simply being able to see 20/20. If you suspect a vision problem, the first step is to schedule a comprehensive eye health exam followed by specialized developmental vision testing to evaluate visual skills and abilities essential for reading, learning, and life. If indicated, a vision therapy treatment program will be prescribed to meet the individualized goals of the patient and/or their family.
Is Vision Therapy Covered by my Insurance?
In many cases, yes. Many major insurance companies (like BlueCross BlueShield, United, Aetna, etc.) allow coverage for vision therapy services. Insurance coverage for vision therapy depends on the following:
Your diagnosis
The specific details of your insurance plan
The procedure code(s) used throughout the course of therapy
Dr. May and Dr. Cioffi are one of very few optometrists providing vision therapy in Maryland who accepts insurance; Advanced Family Vision Care staff will work with you to help determine coverage options and the best course of action.
When vision therapy is covered by insurance, it is common to have a co-pay (usually your regular medical copay) or co-insurance (if that is part of your plan) for each session. Just like any other form of medical treatment, vision therapy services go toward your annual medical deductible; if you have not fulfilled your deductible there may be additional fees beyond your co-pay/co-insurance.
Wondering if we take your plan? Please see the insurance page .
What will my treatment be like?
Evaluation for vision therapy always starts with a comprehensive eye health exam with a refraction to ensure overall eye health and determine the need for glasses or contact lenses. Following a comprehensive exam, Dr. May or Dr. Cioffi will perform specialized sensorimotor testing to evaluate eye teaming, eye movement, and focusing skills. Further testing to evaluate visual perceptual abilities will be performed if needed.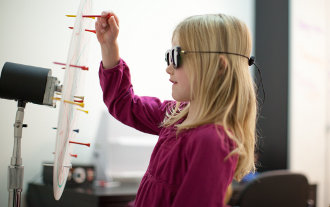 Following a thorough evaluation, Dr. May or Dr. Cioffi will formulate a treatment plan specifically for you in order to address your symptoms and diagnoses. Therapy sessions are conducted in-office once a week and last approximately 45 minutes. You will be given "home therapy" to practice in between sessions; this helps facilitate and expedite progress so that you are able to move through your in-office therapy program successfully. After every six to eight sessions, the doctor will re-evaluate your visual skills in order to monitor your progress and to guide your therapy program. Following completion of your therapy program, the doctor will re-evaluate your visual skills at one month and again at six months; the purpose of these follow-ups is to ensure no loss of gains after completion of the program.
Can Vision Therapy treat Attention Deficit Hyperactivity Disorder (ADHD)?
NO – Vision Therapy is not a treatment or a cure for Attention Deficit Hyperactivity Disorder (ADHD) or Attention Deficit Disorder (ADD). However, there is a connection between ADHD/ADD and visual function. Convergence insufficiency (CI) , a common vision disorder that occurs in 13% of school aged children, produces symptoms that mimic some of those seen in ADHD. If undetected, CI can be misdiagnosed as ADHD. In fact, a recent study by Children's Eye Center, University of San Diego has found
"… a three-fold greater incidence of ADHD among patients with CI when compared with the incidence of ADHD in the general US population (1.8-3.3%). [They] also note a seeming three-fold greater incidence of CI in the ADHD population."
In those cases where CI or other visual dysfunction is present, treatment with vision therapy often greatly reduces and can sometimes eliminate symptoms completely.
Additional Resources